Voice Coil Motor Driver with PWM Input, 800 Series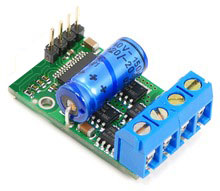 The 800 series is a high performance, cost effective DC Motor Driver to implement intelligent Motion Control. The driver incorporates surface mount technology to achieve an exceptional power density.
This driver does not accept any type of feedback. It may be used in open loop applications. This module may also be used as a driver with a controller that accepts feedback and generates "PWM and direction outputs".