DC Servo Motor Driver, 710-01 Series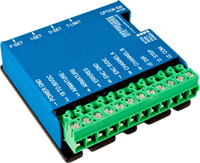 The 700 series is a high performance, cost effective Servo Motor Driver to implement intelligent Motion Control. The driver incorporates an advanced architecture and surface mount technology to achieve an exceptional power density.
This product is not suitable for SDLM series Linear Actuators as well as one micron resolution VCDS series Stages.
Datasheet in PDF